Gourmet Hotdog rebranded "Empire Dogs" by Stuff International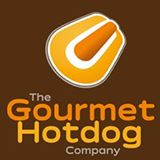 In June Gourmet Hotdog appointed Stuff International Design Limited to undertake their rebranding and to redesign their packaging, menus, website and do their advertising and messaging. The new "Empire Dogs" branding was launched at the Olympia Speciality Fine Food Fair in September, drawing a huge amount of interest.
Television presenter and food expert Gregg Wallace is also involved, helping to change public perception of the humble hotdog, advising on the recipes, taste and packaging. Created by serial restaurateur Mark Yates (founder of Livebait and The Real Greek), the company has branches in Canary Wharf, Stansted Airport, Clapham Junction and Charing Cross and is planning to expand rapidly.
Each hotdog is hand-made, steamed and smoked in their own kitchens in London Bridge. They have less than 7% of saturated fats and are less than 350 calories per dog (including the bun) - so appeal to health aware consumers, as well as those seeking a wholesome snack.
Stuff International focused on the company's South London roots around the docks and the quality, provenance and taste created by using British meat and spices sourced from the around the globe.
The dogs include: The Duke of Cajun - Red Tractor Farm assured British chicken; The Earl of Frankfurt - outdoor reared British pork; The Baron of Pamplona - Red Tractor Farm assured British Beef.
Neil Whitehead, founder of Stuff International said:
"We are very excited about how much attention and sales have been attracted by the new brand and packaging we created for Empire Dogs. To have a food product that is so low in fat, sodium and calories that tastes great has been a dream to work with and yet a challenge for us to develop an effective brand positioning and so we are pleased with customers' very positive reactions."
The new brand and packaging has already resulted in a huge increase in interest and orders from supermarkets and particularly from those servicing airlines, trains, service stations and convenience stores. With new flavours planned, the brand has strong growth prospects.